CTI organises and provides opportunities for its members to participate in meetings, seminars, workshops, exhibitions and trade fairs. Members have the opportunity to network with their peers and other members of the business community. 
From time to time the Confederation organises consultative meetings with key Government institutions and regulatory bodies to discuss issues that affect business performance.
The President's Manufacturer of the Year Awards (PMAYA) and Annual Business Dinner are the most prestigeous events of the Confederation that  enable members to have splendid opportunity to meet and interract with high level government leadership as well as business peers. During the event, awards are presented to best performers in respective sectors and it is an opportunity for members to promote their companies, products and services.
Pictures of recent visit of Parliamentary Committee on Industries, Trade and Environment to Industries in Dar es Salaam: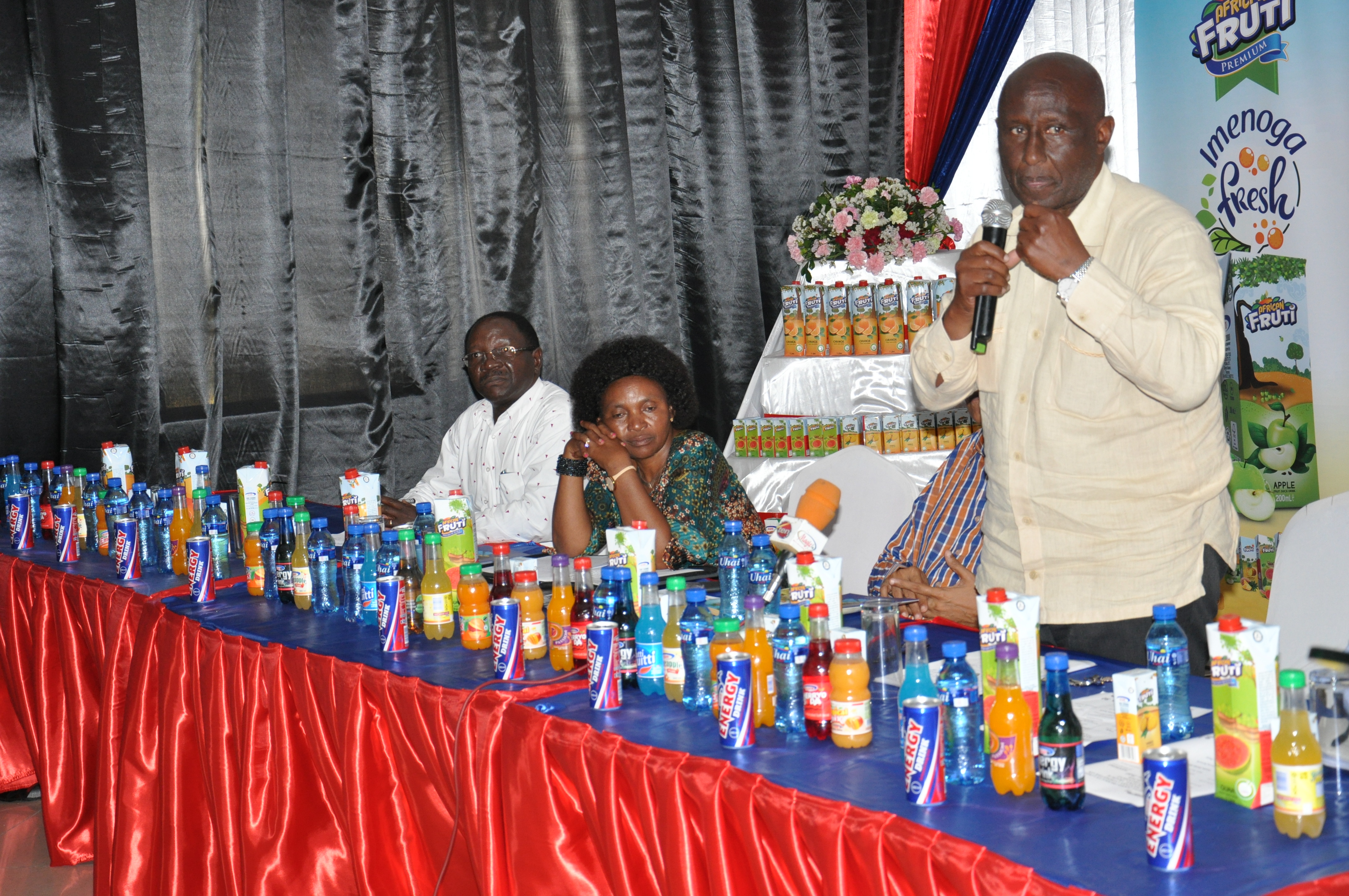 CTI's Executive Director, Leodegar Tenga speaks when the Committee visited Bakhresa Food Products Limited at Mkuranga. 2-Left, is  Deputy Minister for Industry, Trade and Environment Hon. Stella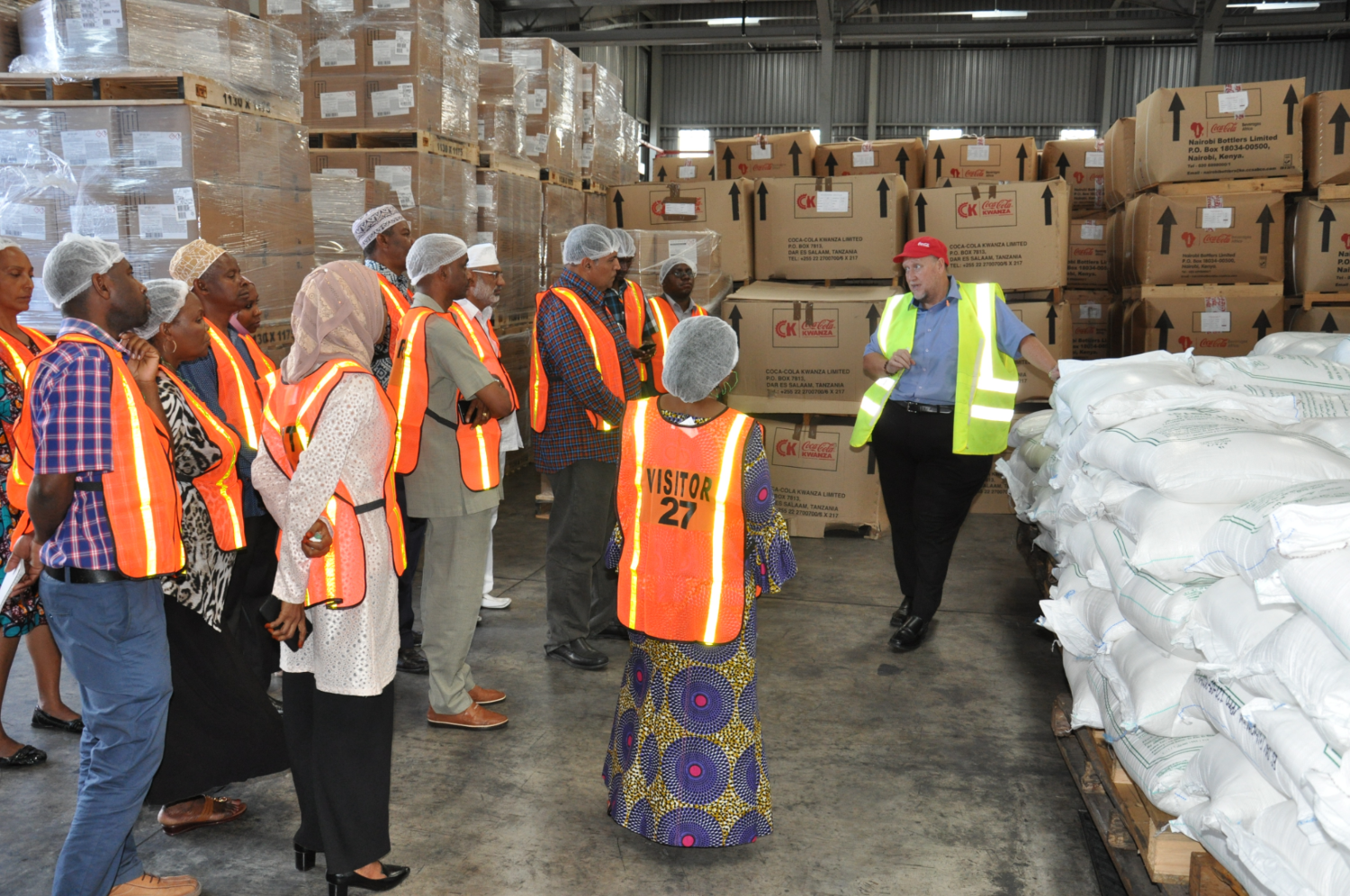 Manyanya.
The Coca Cola Kwanza Managing Director Mr. Basil Gadzios  (in Red cap) 'appealing' to members of the committee that TRA ows his industry about 7bn/-in 15% additional refundable import duty on Industrial sugar. "Every time we meet with our shareholders to ask for more funding, they say until when the refundable 15% additional import duty  will be paid, then they will start to consider Tanzania's request", Gadzios told the committee.
CTI highlights issues require government's immediate attention
The immediate Past Chairman of the Confederation of Tanzania Industries (CTI) Dr. Samuel Nyantahe has highlight eight issues which the new chairman Mr. Suhbash Patel needs to contune engaging with the government.
Dr. Nyantahe made the remarks at the brief handover ceremony held at the CTI Conference room to welcome the new chairman.
He noted that advocacy is CTI's main occupation and shall remain so as long as we strive to establish an enabling environment for industrial development in the country.
The issues to be advocated would change from time to time depending on circumstances. Currently, the main issues include:
1. Delays in outstanding Tax Refunds – for both VAT and Upfront Import Duty Payments.
2. High costs of multiple regulatory bodies – in this case, it is paramount to ensure that the recommendations of the blue print are implemented.
3. Unpredictable fiscal regime – making it difficult to plan.
4. Weak tax administration – to curb smuggling, under-invoicing and under – declaration of imported goods.
5. Lack of concrete strategies to protect and promote local products due to inefficiency of TBS and FCC to enforce standards and ensure fair competition and lack of local content policy that would promote local products.
6. Unjustified and arbitrary uplifts of import values – which adds to the cost of operations.
7. Delays in securing residence and work permits for expatriate staff.
8. Unreliable power supply – regular outages and up/down surge of electricity supply.
Efforts should continue to be exerted in sorting out these issues by continuously engaging the relevant authorities.
One of the major challenges facing industries in Tanzania, and which is highlighted in the White Paper, has been the issue of multi regulations. In the past four years, CTI continue to advocate for streamlining the regulatory framework and making it easier to do business in the country.
In the end, a national committee was set up to review the regulatory framework. CTI was fully involved in the review process and the 2012 CTI Study on Multi Regulations (enclosed) formed the basis for the review work. Ultimately, the national committee came up with a Blue Print for a revised regulatory framework, which has been recently approved by the Government.
Apart from taking the leading role on the advocating for a friendly and enabling business environment, CTI has been taking an active role in formulation of tax policies in the country as a member of the Task Force on Tax Reform and the Think Tank as well as leading delegations of industrialists in dialoguing with Parliamentarians on the fiscal budget / policy. CTI has also been in the forefront in formulation of EAC policies and regulations. It has been actively participating in EAC meetings on Regional Integration and Multilateral Trade.
These are some of the initiatives that CTI has been engaged in and there are many others including resolution of ad hoc issues facing individual members on daily basis and maintaining regular contacts with the members and key stakeholders. It is imperative that dialogue is maintained with the members and stakeholders, especially the Government, with a view to resolving challenges facing industries.
Relationship with Stakeholders
CTI has maintained close working relationship with all its stakeholders. In the past four years, CTI has forged even closer relations with all key Government authorities, particularly our Ministry of Industries, Trade and Investment. We have also maintained and strengthened the relationship with other Private Sector Organisations (PSOs), notably TPSF, TCCIA, ATE, and ACT.
Furthermore, we did establish close contacts with foreign embassies and donor / international organisations stationed in Tanzania. These include UNIDO, DANIDA, NORAD, CESO, Danish Embassy, Norwegian Embassy. The benefits of forging this type of relations need not be stressed.
Sustainability of CTI
Sustainability of CTI has always been an issue of concern for many years now. For years, the auditors have been querying on the going concern status of CTI.
The following measures were agreed to remedy the situation:
i. To maintain the efforts to minimize operation expenses – including refraining from awarding salary increments.
ii. To step up subscription collection efforts. There has been a drop in compliance to pay annual subscription fees by members. As at 29th August 2018, out of 403 members, only 209 members (52% of all the members) had paid their dues.
iii. To deal with free riding by using peer pressure of CTI paying members, and in so doing increase the membership base and subscription income.
vi. To engage in fee-based services, namely: Publishing a Coffee Table Book to promote members profiles, products and services; and offering insurance agency services to members; among other things.
v. To write to HE requesting his assistance in securing one of the vacated Government buildings in Dar as Salaam – in order to save on rental fees and using the facility to generate funds.
vi. To get members actively participate in CTI activities and events such as PMAYA, Consultative Meetings with Key Stakeholders, Training Workshops, etc. – in order to raise the profile of CTI and generate funds.
vii. To enhance media presence and communication flow with members and key stakeholders – in order to remain relevant and promote CTI and its members.
Turning around CTI and making it sustainable is achievable since the agreed measures were doable as long as the members are committed to participate in CTI events and ventures.
Pledge of Support
As Immediate Past Chairman, I am committed to cooperate and fully support our Chairman's endeavors to achieve the CTI's mission.