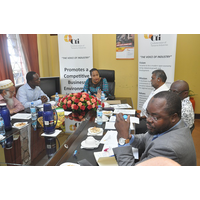 Hon. Angellah J. Kairuki assures CTI Governing Council of the Fifth-Phase Government's support to manufacturers
The Minister of State, Prime Minister's Office ( Investment), Hon. Angellah Jasmine Kairuki (MP) has once again assured the manufacturers of the Fifth-Phase Government's support saying the challenges facing the industries were being addressed.
She made the assurance when she met with members of CTI Governing Council at the CTI Council Room on Friday 20th 2020. The consultative meeting aimed at among other things, the government to get thorough information of the issues that hamper the growth of industrial investments/expansion in the country. The manufacturers presented a range of issues which were discussed and resolutions reached.
---