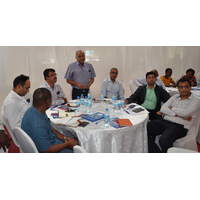 Government, Iron and Steel Producers discuss challenges facing the sector
The Ministry of Industries, Trade and Investments has recently met with Iron and Steel stakeholders and have agreed to, among other things, formulate a joint technical team to discuss, solve and monitor challenges facing the sub-sector.
Speaking to the Iron and Steel stakeholders as well as representatives from other Government Agencies, the Deputy Permanent Secretary, Ministry of Industries, Trade and Investment Mr. Ludovick J. Ruhiyo said that the Government is working to address the issues affecting business.
"Government is working to address issues affecting Iron and Steel industries such as existence of multiple regulatory authorities and procedures which are being discussed at the high levels of the Government through the draft report Blueprint for Business Environment Regulatory Licensing Reform" he said.
Issues agreed upon:
To formulate a joint technical team to discuss, monitor and provide follow up.
To make follow up with the relevant ministry on tariff for wire rods.
Collaborate with TBS to enforce rules on measurements and quality for products.
Enforce measures to control sale of scrap metal.
Provide incentives to industries to graduate and promote competitiveness of the domestic industries.
Address the introduced Bulk Shipping charges on imported goods by Weight and Measures Agency (WMA).
Improve inter-agency coperation at the port.
Local content procurement to be addressed by the Technical Team.
Skills and development to be addressed through depths analysis and appropriate recommendations are made to improve the education curriculum.
DISCUSSION:
A representative from Chemi & Cotex Industries Limited proposed that the Government should consider maintaining the duty on wire rods with width of 6.5 mm and more, at lower rates. He added adding that to increase the duty to 25% or USD 200/MT would affect the producers of nails and wire mesh.
A representative from ALAF Ltd said that counterfeits on flat products with inferior quality such as paint and thickness have led to unfair competition among producers who use correct measurements. He noted that producers using inferior quality and standards have a cost advantage over those who use correct measurements and standards.
Further support from Fair Competition Commission and Tanzania Bureau of Standards is needed.
Weight and Measures Agency (WMA) decision to impose bulk Shipment Fee on goods crossing the border has brought about new challenges. Also, the procedure seems impartial as it does not involve all trucks but charged only on selected trucks.
Another challenge is caused by the weighing scale at the port which shows a different weight from that which is declared in the documents. This leads to delays in clearance of goods and increases the cost of production (doing business).
Tanzania Bureau of Standards (TBS):
TBS has re-introduced Destination Inspection on reinforcement bars and flat products and since iron and steel products are identified as high-risk products, there is a need for frequent inspections through raids and unannounced inspections.
Manufacturers were reminded to put marks and other specifications on their products to discourage counterfeiting. They were also urged to report any information on substandard goods to enable TBS to take action.
TBS agreed to respond to the letter from ALAF and they were asked to be patient as well as cooperative so as to address the challenge of substandard goods in the market.
Ministry of Industries, Trade and Investments (MITI):
MITI assured producers of Iron and Steel sub-sector to make follow up and ensure that the tariff on wire rods is not confused with that of reinforcement bars.
The manufacturers were requested to provide relevant information on the Iron and Steel sector to enable the Ministry make appropriate recommendations and build a case for the promotion of the sector.
The sector faced challenges resulting from increasing prices of ingots and scrap metal.
The Government will enforce the available export regulations to ensure there are no exports of scraps metals.
---