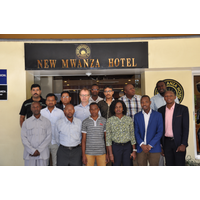 CTI conducts training on Energy Efficiency in Mwanza
The Confederation of Tanzania Industries (CTI) in collaboration with GIZ has recently conducted a training on the importance of embracing Energy Efficiency in the industrial production.
The training was made possible following the support provided to CTI by GIZ on energy Efficiency sensitization and recognition of members since 2015 and more specifically through the PMAYA 2016 and 2017.
The Participants of the training were urged to undertake energy efficiency measures as a way to reduce their production costs.
During discussions, the GIZ representative Mr. Jesper Vauvert, emphasised on the need for a strategic and a systematic approach to Energy Efficiency.
He cited the example of the South African Energy Training Foundation which provide Certified Energy Managers Programme adding that Kenya Association of Manufacturers (KAM) has been one of the beneficiaries of such a programme.
DISCUSSIONS AND PRESENTATIONS:
CTI should emphasise on members training to enhance awareness on energy efficiency.

CTI should continue to undertake energy audits to provide appropriate recommendations for energy savings to members

CTI should collaborate with TPDC to supply natural gas to members as a means to cut on energy costs.

CTI should provide members with access to easy and cheap finance to invest in energy efficiency.

CTI should coordinate with Technical institutions such as VETA and DIT to provide its members with trained energy experts to assist members conserve power in their daily operations.

Members need to collaborate with CTI in implementing energy efficiency measures.

CTI should provide more information on energy efficiency such as energy saving machines and appliances, biomass, solar panels etc.

CTI should invite companies for workshops and seminars on energy efficiency.

Conduct tailor made trainings on energy efficiency to members.

Encourage suppliers of energy efficiency equipment and machines to invest in the Lake Zone areas to enable easy access to energy solutions.

CTI should ensure quality supply of equipment.
---