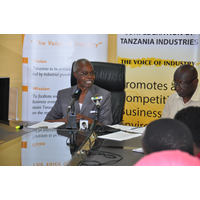 CTI optimistic of 2018/2019 budget, advises Govt to take friendly measures on edible oil and industrial sugar products
The Confederation of Tanzania Industries (CTI) has received the Budget estimates for the fiscal year 2018/2019 with delight and is optimistic of the fruitful implementation.
Speaking at the press conference in Dar es Salaam recently, the Chairman of CTI Dr Samuel Nyantahe said that most of the measures taken by the government during this year's budget, if well implemented, would build an industrial economy that will in turn enhance employment and social welfare.
He said that, with the proposed measures, CTI believes the Government has paid attention to the many interventions and longtime recommendations from CTI and its members as well as other stakeholders.
"It's our hope that the provisions highlighted in the budget will impact the manufacturing sector positively, specifically the manufacturers and producers of iron and steel products,
g ypsum board, toothpaste, cosmetics, pesticides, animal feeds, textile, apparel, leather, non-petroleum products, pharmaceuticals, soaps, salt, meat products, tomato sauce, mineral water and confectionaries" he said.
However, Dr. Nyantahe requested the Government to consider less restrictive measures on edible oil and industrial sugar products as the country seeks to emphasise on building the capacity to promote the sub-sector. He called for closer collaboration with key players in these sub-sectors so as to harness better results for the economy.
COMMENTS
2.1 General Comments
In general, we commend the Government for its effective tax administration measures that warranted the successful implementation of the budget 2017/18. In the year 2018/19 the government plans to collect TZS 32.47 trillion out of which TZS 20.46 trillion) equivalent to 63 percent of the budget) will be used partly to service the national debt, pay salaries and other recurrent expenditures. Development expenditure will be TZS 12 trillion equivalent to 37 percent to be used to meet the expenditure for the various infrastructure projects such as energy development, roads, railways, and ports.
CTI wishes to commend the government's efforts that aim at increasing industrial production, improving the business environment and enabling the sector to contribute meaningfully towards economic growth, job creation and poverty alleviation. These include:
Increasing government revenue through widening the tax base by formalizing the informal sector and creating a conducive business environment for investors,

Undertaking various infrastructure development projects that will stimulate industrial development,

Putting more emphasis on the development of the industrial sector which will create more employment and utilize locally produced raw materials. The private sector is anticipated to play the role of being the engine of growth,

Increasing quality of education, health services, clean water and power supply,

Fighting against corruption (particularly grand corruption) and illegal drugs,

Implementing major reforms in public service customer care and reducing bureaucracy,

Transforming and strengthening agriculture, livestock and fisheries sectors and promoting local value addition and commercialization,

Abolishing nuisance taxes affecting efficient conduct of businesses in the country.

Specific Comments

The following measures, if implemented, will have positive impact on the manufacturing sector:
2.1.1 Value Added Tax
Exemption of VAT on packaging for pharmaceutical products. This is to enable domestic industries to become competitive.

Exemption of VAT on additives for manufacture of animal and poultry feeds. To encourage manufacturers of animal feeds and animal husbandry.

Exemption of VAT on sanitary pads under HS 9619.00.10. this will ensure affordability of sanitary pads to consumers.
2.1.2 Income Tax
Reduction of Corporate Tax from 30% to 20% to 120 new investors in the pharmaceutical and leather industries for a period of 5 years.
This measure is expected to increase revenue, encourage investment, promote foreign exchange and employment.
2.1.3 Local Government Revenues Act
Removal of sisal levy paid by firms that process sisal into fibers. This measure aims to promote value addition in sisal related products.
2.1.4 Tax Administration Act
Introducing tax amnesty on interest and penalties by 100%. Through this measures taxes declared during the period of January to December, 2018 will have full remission of interest and penalties. This measure aims to improve tax compliance and revenue collection.
Excise Duty
Maintaining the current excise duty rates on non-petroleum products produced from materials sourced locally. Through this measure non-petroleum products will become more competitive thus lead to increased employment, sales volume and government revenue.

Introduction of 5% on imported non-petroleum products this measure will promote locally produced non-petroleum products.
2.1.6 Import Duty
Maintaining of import duty at 10% on wheat for one year. To promote manufacturing and uses of wheat products while maintaining stable commodity prices.
Granting a duty remission on paper for manufacture of gypsum board and apply a duty of 0% instead of 10%. This will promote production of gypsum boards, create employment and government revenue.
Granting duty remission on self-adhesive labels and charging a duty of 10% instead of 25%. To reduce production cost for manufacturers of toothpaste.
Granting duty remission on printed Aluminum Barrier Laminates (ABL) and applying a rate of 0% instead of 25%. This is to reduce production cost and promote competitiveness in toothpaste manufacturing.
Introducing a specific duty on USD 300/MT or 25% whichever is higher on corrugated nails staples other than those of Heading 83.05. this aims to promote the competitiveness of these production against unfair competition from cheaper imports.
Introducing a 0% duty on inputs for manufacture of paints (Poly Vinyl Alcohol). This is to encourage production of paints.
Granting duty remission at a 0% duty on inputs for manufacture of pesticides, fungicides, insecticides and caricides. To promote domestic production of these products.
Granting duty remission at a 0% duty instead of 10% on raw materials for making soap of RBD Stearin HS 15119040. This is to promote soap manufacturing in the country.
Granting stay of application of CET and charging a rate of 35% instead of 25% duty on imports of chewing gum, chocolate, biscuits, other sugar confectionaries (sweets), tomato sauce, sausage, meat and edible offal in chapter 12. This measure is to promote domestic production.
Granting a stay of application on CET and applying a duty of 25% or USD 1.35 per kilogram whichever is higher on safety matches. This measure aims to promote domestic industries in the region.
Granting stay of application on CET and applying a duty of 60% instead of 25% on imports of mineral water. The measure intends to promote local production.

Providing duty remission on inputs, accessories and spare parts used in the manufacture of textile, apparel, shoes and leather products.
2.1.7 Rates of various fees and charges by Ministries, Departments and Agencies (MDAs)
Reduction of fees and charges on salt products manufactures through the following measures:

Abolish the salt produce cess charged by local government.

Abolish salt inspection and clearance fee charged at 1% of the value of salt.
Abolish mangrove levy charged at TZS 100,000 per acre annually.

Abolish fee to review the salt project concept paper by the National Environmental Management Council (NEMC).

Abolish fee to Register solar salt panel.

Abolish supervision fee on salt field by Forestry Society.

Remove fee for registration of salt mining centers charged by NEMC.

Remove environmental impact assessment fee charged by NEMC.

Reduction of inspection fee for work places by OSHA charged in the salt sub-sector from TZS 2 million to TZS 1 million annually.
To reduce the application fee for salt export permit from USD 100 to TZS 20,000 annually.
Reduction of fees and charges by Occupational Safety and Health Authority (OSHA) at workplaces as follows:
Abolish fees on application forms for registration of workplaces.

Abolish levy imposed on registration of workplaces.

Abolish fines related to fire extinguishers charged at TZS 500,000.
Abolish Consultancy fees of TZS 450,000.
These measures will enable domestic industries to enhance production, improve consumer welfare, promote use of local materials, enhance competitiveness of domestically produced goods and stimulate economic growth.
2.2 Negative Measures
Despite the positive measures that were announced by the Minister for Finance, CTI wishes to call on the Government to extensively consult the private sector on the following proposed measures:
Increasing import duty on Crude Palm Oil (CPO) from 0% to 25% for one year and additional duties on semi-refined, refined and double finished edible oils to make a duty of 35%. This measure has direct consequences on investors of refined palm cooking oil and further result to shortages cooking oil the country.
Maintaining the additional import duty of 15% on industrial sugar. This measure has led to serious cash strain on manufacture and has increased their operational costs thus, exposing them to unfair competition from similar imported products. It is worth noting that, this duty is not a revenue component to the Government but simply an administrative burden to TRA that can be removed.
Implementation of Electronic Tax Stamps (ETS) from the beginning of the Financial Year. CTI members welcome this measure, we have no problem with implementation of Electronic Tax Stamps in principle. However, it should be implemented at zero cost to manufactures.
Introducing a TZS 200 per Liter Excise Duty on wines produced from more than 75% local content of fruits such as banana, hibiscus, and tomatoes other than grapes. This measure will lead to increased prices of domestically produced wines. In principle, the increase and introduction of taxes tends to increase production costs and therefore, impacts the competitiveness of domestic industries, and consequently reduction on consumption.
Conclusion : CTI believes that fiscal policies, apart from generating government revenue to fund recurrent and development expenditure, should also be used as a tool for stimulating the pace of industrial development, economic growth and job creation in the country.
The 2018/2019 budget has attempted to balance between raising more government revenue and economic growth. CTI is optimistic that with further consultations and collaboration between the Government and private sector, the intended good initiatives will be met and compliance enhanced.
The Confederation is therefore committed to support the initiatives announced by the government to ensure achievement of the National Development Vision 2025 of Tanzania becoming a middle-income country through industrialisation.
On the other hand, the Confederation requests the Government to allow further consultations with key stakeholders to rectify the negative aspects of the budget as outlined herein, in order to facilitate a competitive business environment that is conducive for sound industrial development in the country.
End.
---