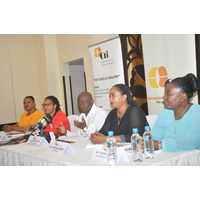 Dear CTI Members and Business Community,
Greetings from CTI.
The 15th President's Manufacturer of the Year Awards Competition famously known as PMAYA has been officially launched and the Awards giving ceremony is set to be held in the last week of November 2020 in Dar es Salaam.
Launching the PMAYA 2020 competition on Wednesday 23rd September 2020 at Dar es Salaam Serena Hotel, the CTI Executive Director Mr. Leodegar Tenga welcomed all industries to participate and join the CTI Patron, the President of the United Republic of Tanzania H E John Pombe Magufuli in his national industrialization drive to enable Tanzania to become a Semi Industrialized nation by 2025
"We have, over the years, received tremendous support from the stakeholders, this year we already have received a large number of participants from various industries all over Tanzania. We encourage more companies to participate, especially we would like to emphasize the participation of Small and Medium-scale industries." Stated Leodegar Tenga.
PMAYA's main objective is to recognise the contribution of companies engaged in production of goods and services in Tanzania from different sectors as well as to enhance their competitiveness.
The launch of this year's PMAYA paves way for stakeholders in the industry to register for this prestigious event. To register please visit www.cti.co.tz. Deadline to fill and submit your participation form is 12th October 2020.
Best Regards.
Perege Gumbo,
Ag. Director of Communication and Documentation.
---